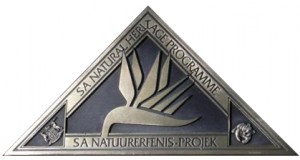 Mhlopeni (Place of white stones) , is located in  a rain shadow area of the Tugela river basin. Part of the dry valley bush veld, considered to be the most degraded veld type in KZN.  In 1977 a dedicated group of Nature conservationist purchased 808 ha, to which in 1991 an additional 517 ha, was added establishing a nature reserve of 1325 ha.
Today the bush camp, fitted with the basic requirements, provides accommodation for visitors to view the ongoing rehabilitation process of nature at work with the dynamism of ecology, providing excellent examples of plant succession.
Mhlopeni is the most beautiful privately owned "Natural Heritage" site to visit in South Africa.
As a Bird Sanctuary, Mhlopeni is abundant with majestic birds of prey, and being on the confluence of the north, south, coastal and inland species distribution limits of bird species.  The founding of a conservancy, for most of the Mhlopeni river catchment area, has resulted in a (twitcher's) bird viewing paradise, with 230 species on the bird list.
Rustic walking paths provide visitors the vistas and sounds of the diversity of healthy Dry Valley bush veld.
Ancient and modern history provides the enthusiast a glimpse into archeological sites, from early stone to iron age, findings, dating back to 250 000 years ago.  Holding artifacts of these eras is a truly unique experience.